Welcome to retro-redo-stuff.com this website shows some of the custom items available that have been previously made
Currenlty making pilows out of PARIS Oh LA LA fabulous fabrics combining all styles and shapes!
however have been making lots of new style pilows so this web site is a bit out of date please contact the web master for more current info and pillow pics (sales@retro-redo-stuff.com)
| | |
| --- | --- |
| Christmas and holiday pillows will be available for sale soon! | lots of these Chili pepper pillows for sale 12" square $`5.00 ea plus shipping message me for details thanks! |
| | |
| --- | --- |
| retro olive green table w/map of Paris on the top 1950s | owls on the top of coffee table & olive 1950's color |
| | |
| --- | --- |
| Happy holidays everyone! this handmade wreath took a long time to make, with original vintage 1940s 1950s and 1960s ornaments (ornies) all wreaths have been sold thank you | close up of ornies sales @retro-redo-stuff.com |
stuffed with 1950s 1940s ornies! this is for sale!

one of a kind vintage ornment wreath with 1940s 1950s 1960s only $180.00 ( $15.00 approx for shipping) this wreath has been sold thank you

similar wreaths gor for $250 plus on etsy and the internet



Xmas holiday pillows and gift pillows current for sale

girls toothfairy pillow or dream pillow

Boys toothfairy pillow
2 way fish traffic w. fun xmas trim always holiday!

the blue pillow in the back is Channukah fabric as in "equal time"!

poinsetta pillows for sale from a smoke /pet home with no smells! :) Only $40 each
Channakah pillows for sale year round only $15 each "equal time" :)

lots of suitcases for sale, message me for details!
timeless treasures boutique huntington beach in target shopping center & pavillions market on beach bl june 14 to 17
| | | |
| --- | --- | --- |
| brown Paris w/ brown fringe | sea shell fabric w/beige fringe | 3-d fabric with special glasses! vintage cars! |
interiors of turquoise suitcases
| | | |
| --- | --- | --- |
| Paris back blue & white pillow | back of blue Paris pillow | train suitcases for sale message me for details |
retro-redo-stuff.com "new items made to look old"
Vintage style with vintage and reproduction fabric
| | | |
| --- | --- | --- |
| black white cars | pink white black Paris pillow | back of pink Paris pillow |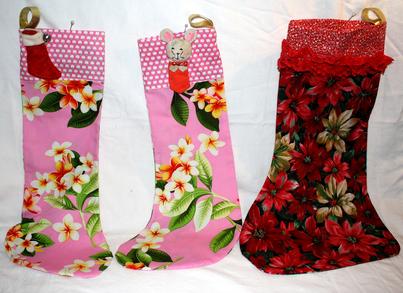 vintage and new mae to look old fabric Christmas stockings
| | | |
| --- | --- | --- |
| custom Christmas Holiday stockings from a non smoke no pet home | retro fabrics mixed w/ retro trims buttions etc. | great gift bags for wine or egg nog or? |
New "old stock" barkcloth fabric
Vintage barkcloth fabric
Also new retro looking Mid Century Modern Style Fabric
1950's, 1960's style fabric
Available in custom size of sofa pillows,
Bed pillows, Aprons, Holiday hats,
Christmas hats, Christmas stockings,
Birthday stockings, and many more items to follow!



Finish line at Silver Strand Half Marathon!
| | |
| --- | --- |
| Rock'n Summer Classic Pillow | Rock'n Summer Classic pillow |
| | |
| --- | --- |
| small size pillows for that extra color | paris paper hexigon smoke glass top |
| | | |
| --- | --- | --- |
| olive pillow with red gingham check and heart& lace pillow | back of the red olive pillow & heart pillow | Yellow olives, blue olives & yellow barkclcth pillow |
| | |
| --- | --- |
| Pink Olives and Brown Olives pillow | back of brown pillows |
| | |
| --- | --- |
| Black Palm with fringe pillows a crowd favorite! | |
| | | |
| --- | --- | --- |
| | back of these pillows are retro fabric | the long narrow pillows are made for behind the neck on a sofa or bed |
Ever come up with an idea and your friends keep asking, Why don't you offer them to the public for sale? "These are cool looking pillows!" Ok so here are the pillows, Christmas Santa hats with aprons and other items to follow!They are custom "handmade" one of designs based upon the retro Mid Century Modern
Shabby yet Chic, vintage 1950's 1960's designs. This is not IKEA pre made pillows nor are these items from Target stores or Kohls Stores but they are custom one if a kind to change or update your decor.
For fun to perk up a living room or bed room or kitchen. Enjoy!
Please contact for pricing and info fun546@aol.com
* be sure to check back often, as these items will change as they are being sold or replaced!

Pillows are a great way to instantly change a decor or look, update for less money than a new piece of furniture! "Pillows are a captivating way to draw the eye....probably before anything else in the room! They can add a pop of color and contrast or subtle texture and elegance to your living room, family room, bedrooms and outdoor living areas. Pillows have the power to transform simple window seats, ledges, chairs and benches - both indoors and out...without spending a lot"

Pink Christmas santa hats for sale are $20 e

yellow santa hat

newly ordered custom barkcloth pliiows

Special Custom Pillows for a customer whom wanted a solid black back and not fringe due to playful cat and dog! Bad kitty! (LOL)
All items come from a non smoke no pet household, all items are custom one of designs.
Some of reproduction barkcloth or retro fabric items there are available, some items with the vintage fabric, "ya" better be thinking about buying them soon, before someone else does!

All of the pillows you see on this web site can bought and be paid for via pay pal or money order, cash, check. Items paid for with check will be held for shipping until check clears (usually 7 to 10 business days) , pay pal orders have a $1.00 service charge. All orders will be shipped pre paid via priority mail or fed ex ground (depending upon which ever is cheaper!) All items are non returnable, however the photos show them clearly and what you are seeing is the actual pillow.

There are no shipping or packing charges. All items pre paid will be shipped right away.
If you are local to Orange County or Long Beach, then local delivery is available.
Thank you for your understanding of these custom retro vintage items!


You may contact for further info to fun546@aol.com
This web site is found on Yahoo.com, sometimes Google.com AOL or america on line shows this location, yet this is not an Ikea product but more of a design product for the hip mid centurt modern tkti crowd!
| | | |
| --- | --- | --- |
| newly made custom pillows for a customer | Hawaiina santa hat | green santa hat |
| | |
| --- | --- |
| vintage barkcloth chair shabby chic wood finish | back of barkcloth chair |
© retro-redo-stuff.com. All rights reserved 2008, 2009, 2010, 2011, 2012, 2013. 2014 , 2015 2016, 2017,2018,2019.2020;2021 "new items made to look old"
© retro-redo-stuff.com. All rights reserved 2008, 2009, 2010, 2011, 2012, 2013, 2014, 2015, 2016,2017,2018, 2019, 2020,2021 2022 2023 "new items made to look old"